Arthritis-attributable activity limitations (AAAL) are defined by the self-reported question: "Are you now limited in any way in any of your usual activities because of arthritis or joint symptoms?" in the National Health Interview Survey. Estimated doctor-diagnosed arthritis prevalence was also used to estimate that AAAL affected an average of 22.7 million adults between 2010 and 2012,1 higher than the 22 million projected to be affected by 2020 in a 2006 project.2 Estimates showed the typical distribution of higher rates among females and older adults, and lower rates among Hispanics and Asians. Absolute estimates show that most of the adults with arthritis-attributable activity limitation (13.8 million, or 61%) were under age 65 years. However, these ages comprise 83% of the US population. Thus, the rate of AAAL is higher in persons age 65 years and older. (Reference Table 4.1 PDF CSV)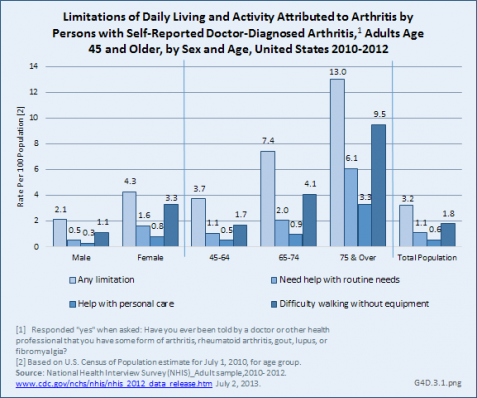 Arthritis-attributable work limitations (AAWL) are defined in reference to work for pay as: "Do arthritis or joint symptoms now affect whether you work, the type of work you do, or the amount of work you do?" In 2002, AAWL affected an estimated 30% adults (6.9 million) aged 18 to 64 years with doctor-diagnosed arthritis. Higher rates were found among those aged 45 to 64 years, women, non-Hispanic blacks, and those with low education or low income.3 Between 2010 and 2012, 3.8 million people age 18 years and older with doctor-diagnosed arthritis reported they are "unable to work now due to a health," while 2.1 million reported they are "limited in the kind or amount of work they can do." Arthritis conditions represented about one in five people with a work limitation from any medical condition. (Reference Table 4.6.1 PDF CSV; Table 4.6.2 PDF CSV)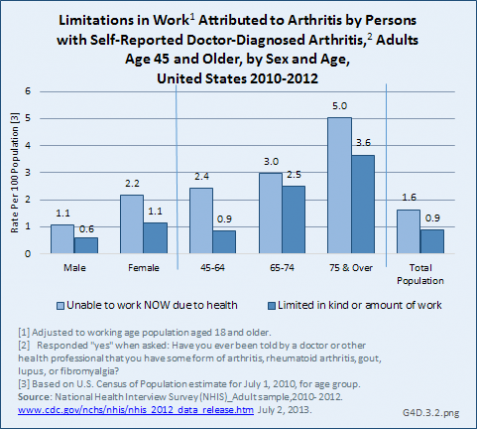 Limitations in daily living and activity (ACL) National Adult Survey data from 2010 to 2012 examined those with "any limitation" and with three specific ACL limitations—routine needs, personal care, and walking. Participants were asked to attribute their limitations to up to three medical conditions.

Among all adults with limitations, those with doctor-diagnosed arthritis naming arthritis as the cause comprised 19% of the estimated 40.8 million with "any limitation." One-third of people with difficulty walking (32%) attributed their limitation to arthritis, while about one in four attributed limitations with personal care and routine needs to arthritis. This demonstrates the large impact of arthritis on adults with daily chronic limitations. This effect was much stronger among females than males and among older adults. Little difference was found between persons by race. (Reference Table 4.6.1 PDF CSV; Table 4.6.2 PDF CSV; and Table 4.6.3 PDF CSV)
1. Barbour KE, Helmick CG, Theis KA, Murphy LB, Hootman JM, Brady, Cheng YJ: Prevalence of doctor-diagnosed arthritis and arthritis-attributable activity limitation—United States, 2010-2012. MMWR 2013;62(44):869-873.
2. Hootman JM, Helmick CG: Projections of US prevalence of arthritis and associated activity limitations. Arthritis Rheum 2006;54(1):226-229.
3. Theis K, Murphy L, Hootman JM, Helmick CG, Yelin E: Prevalence and correlates of arthritis-attributable work limitation in the U.S. population among persons age 18–64: 2002 National Health Interview Survey data. Arthritis Rheum 2007;57(3):355-363.